Sucking too hard on your lollipop,
Or love's gonna get you down.
Say love, say love,
Or love's gonna get you down.
[lollipop - MIKA]
the cutest song ever!!
lollipoppp~~ ey~~ singing ba-dap-dap-ba-dap-dap.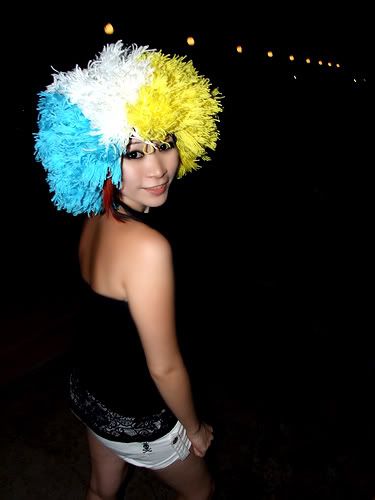 eh what if i look like this everyday?
would people still want to

date

me? lol
and oh, thanks to
charleskey
for the picture!
okay.
cut-the-crap.
i'm sitting for a paper for my core subject tomorrow. finals are somehow killing me in someways but it never stopped me from having fun :) i'm a
FREE
clown
bird
tomorrow when the clock hits 5.15pm; when the examiners start to collect the answer sheets. I can't wait seriously.
another thing is that, I'm applying for
SIA's
(Singapore Airlines)
cabin crew.
Interview's in two weeks time and I'm already freaking out. Been doing lots of research and been asking my aunt
(who was once a stewardess and now, she's a chief flight attendant)
about the job and the interview - not as easy as most of you or I thought it would be. If all goes well, I'm gonna stop doing my degree in USM and reside in Singapore for a couple of months for training. It's a green light for me as I already talked to my parents and to some of my friends; I would most probably stand out for my height. But I might be reconsidering all of this again IF I am ever offered a job with SIA.
Hence, the hair on my head is going

back to BLACK.
My heart is already aching; because I'm pulling the plug on the red that's been with me for a couple of month's now - it has already been my trademark, but I'm gonna have to lose it. It's really almost impossible for me to look for a job with this hair. An employer even told me once that the
RED
is unacceptable. oh well. :( Nevertheless, I would be even happier if I were to be granted a job upon giving up my-so-called-'trademark'.
Back to basics, Minny.

Back to basics.
Oh well enough of me ranting, I'm gonna sound like my mother someday soon (OH NO!).
Gotta get back to the books now
; they miss me - i know. haha.
sometimes I wish I can foresee the future;
then life would not be so complicated.

but what is life without complication?;
as what is
a
r
t
without imagination?