stop rubbing your eyes, hey.
no, your eyes are fine.
yeah, it says Saturday on the day and date column for this post.
YES. i'm UPDATING on a Saturday.
this is awfully weird for me;
and bizarre for most of my friends - i'm home on a saturday.
*msn chat*
daniel :
OMG ARE YOU MINNY?
me :
uh. unfortunately yes!
daniel :
it's a saturday!!
me :
yes it is, i'm home and you get to chat with me; so YIPPIE!!!
truth is, i'm bumped out man.
had just
4 hours
of sleep after so much fun last night!
most of my friends are out - having fun and all
but i just got home from a interior/exterior home exhibition in PISA
& went for some grocery shopping at Tesco with the two hotties in my family.
hm.
i feel like a housewife!
anyway!
i dont remember which day this was;
but anyhow, I'VE GOT PICTURES!
had dinner at Sri Ananda's then off for pool
i know, my life has toned down to be very
predictable
wake up, go out, movie, pool, party, sleep.
i need to include
"revising for my studies"
into that list :D
damn, this is a
hugeeeeeeeeeeeee
photo of myself :P
alamak.
gotta really find out what's the perfect size for picture uploading in blogs.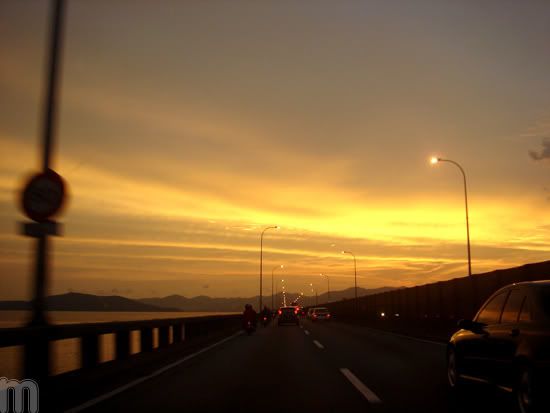 penang bridge.
sunset;
sometimes we take nature for granted
by not taking in the wonders of it
and to not realize that this is NOT just another day.
gurney!

I LOST AT POOL.
like. i know. i suck.
anyway,
we took some pictures with Mark's camera..
(didnt get hold of them all, so im gonna post the ones that i have)
jealous woi!
10MP and i don't have to photoshop the photos - except for that
"M"
logo.
the contrast and everything looks amazingly great; RAW.
ralph's armpit was in this picture but i cropped it out
ahhahahaha..
right after, we hung out at Arathi's for wine
then my sister and me had to leave early for c-l-u-b.
woohoo.
i might not be able to update on Sunday and Monday.
finals starting this Monday, first paper : English.
wish me luck, peeps!