the desire in our hearts to venture out for a water theme park continued
we didn't settle for The Carnival nor Lost World of Tambun;
ever since our very first TAK BUKA experience -.-
(click here if u haven't read it)
Only BUKIT MERAH LAKETOWN WATERPARK
provides such
condign satisfaction
:)
being a sweetheart again,
Cedric
drove us all there.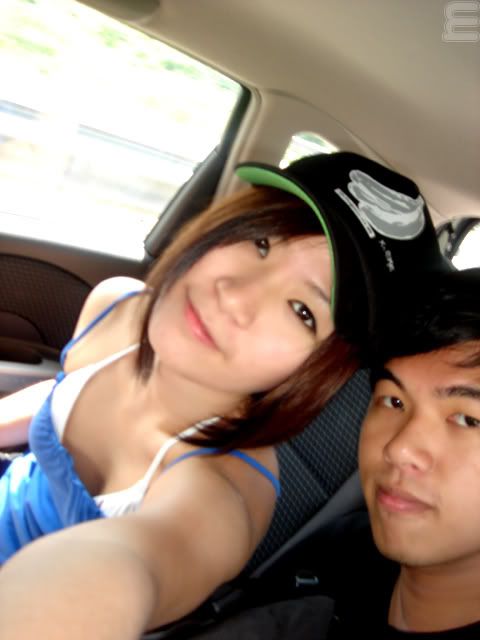 being
oh-so-free
in the car,
(for not having to drive)
i splatted on some SPF35 on myself..!
anyway, meet JJ;
jjzai.blogspot.com
Cedric, you guys definitely know him lah.
goodboygonebad.com
when i have nothing to do,
these are my only entertainment
VANITY and cameras
As we drove surpass the toll to Bukit Merah,
the same old feeling from our first trip rang a bell
it was so familiar, i've felt this before :
the condition of being over-excited
i can imagine myself sliding down the water slides,
gliding through those man made waves;
and pictures of me kicking my friends down the water kept mingling with my mind
AHAHAHA yeah it was that bad!
My capacious heart couldn't take it!
WE WERE ALL
SO EXCITED.
extreme photoshop :P
RM21

per head.
another

RM10

for the floater thingy.
another

RM2

for the locker.
damn, they're making good money out of this.
AIYOOO and let me share with you guys;
stranger :
miss, you're an actress or some sort?
me :
huh? *puzzled* no lah
stranger :
u look like a celebrity.. pretty!
me :
WAHAHAHA! *laughs hysterically & thinks - something wrong with ur eyes?*
JJ

(being nice)

:
yaya. she's an actress. for

porn movies!

HAHAHA!
me : WTF!!! *whacks JJ brutally*
anyway we got in, and totally had the time of our lives there
amazingly fun, the whole theme park was backed up
with the screams of Cedric's and mine :D
until one point where they
stumbled upon a POT of GOLD.
yeah! I'm serious, around the man-made beach/pool with waves.
but it was tragic that the pot of gold is actually BLACK in color
and it stinks. the best part is;
it came right out from somebody's shit-hole
darnit.
my legs are tanned!
compare the first couple of pictures with this one
whoa.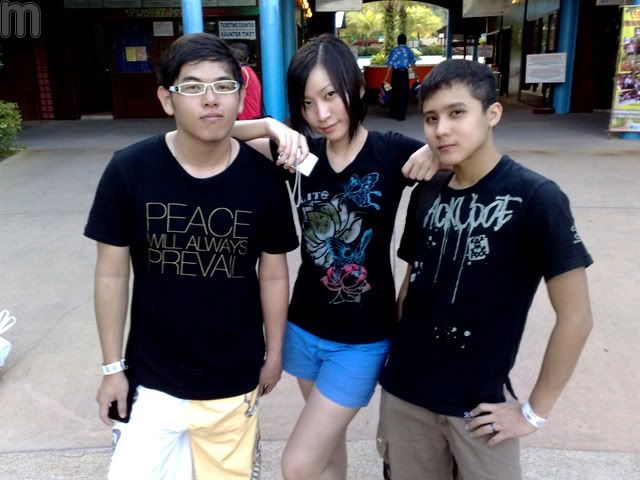 they both need no more introductions
i'm 100% make up free
went to some Malay food stall opposite the entrance to Bukit Merah for dinner
we were starving! i could swallow a horse.
literally!
golden skin :)


i had a blast although i remember that we were all completely washed out;
and our muscles were sore the day after.
totally WORTH IT!
more outings?
2nd Year of University starts in less than 2 days
OHMYGOD.